In December of 2007, I received a note from the descendants of Mr. McArdle: "The artist of 'Dawn at the Alamo' And 'The Battle Of San Jacinto' and numerous other portraits and paintings name is not Henry Arthur McArdle, it is HARRY ARTHUR MCARDLE!! I happen to know this as I am Daniel D. McArdle, one of Harry's Great Grandchildren. If you look at the letter head on his hand written letters in his archives you will see Harry, not Henry. So please correct his name in the name of historical accuracy." Both the Texas State Archives and the New Handbook of Texas list him as "Henry", as do many other publications.
http://www.tsl.state.tx.us/mcardle/intro.html
http://www.tsha.utexas.edu/handbook/online/articles/MM/fmc3.html
As these are considered to be authorative sources, they are the ones that were used. I went back and looked at the letterhead referenced and it does, indeed, say "Harry Arthur McArdle". It has always been a challenge to historians, that not every transcription or account is accurate. Thanks to Daniel McArdle for bringing this to our attention.
Harry McArdle can be considered one of the greatest painters of subjects dealing with the Texas Revolution. If not the greatest, he was certainly one of the earliest. As the Handbook of Texas states: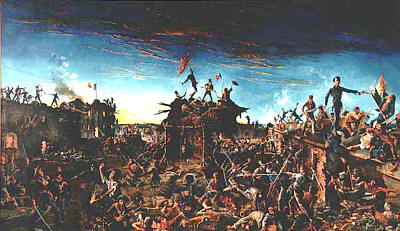 "Among the most renowned of his historical canvases are the twin pieces Dawn at the Alamo (1876-1905) and The Battle of San Jacinto (completed 1898), which hang in the Senate Chamber in the Texas Capitol. These are extremely conscientious interpretations as to detail of topography, uniforms, equipment, and personal likeness."
McArdle approached the subjects in a way seldom attempted by 19th Century painters of great historical events. He researched his subjects in amazing detail. For his painting Dawn at the Alamo he even wrote Santa Anna and asked him if there was anything he wanted to add or change to his version of what happened at the Battle of the Alamo. He interviewed and corresponded with hundreds of others concerning that battle and the Battle of San Jacinto.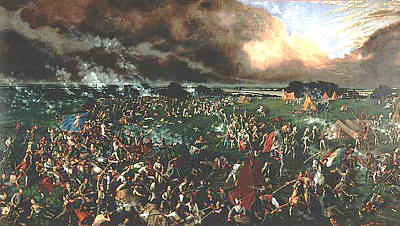 All of these interviews, papers and related items were compiled into two large tomes known as the McArdle Notebooks which are now kept in the Texas State Library and Archives in Austin. In an attempt to make such treasures more accessable the State Library and Archives has put much of this material on line for public viewing.
On several occasions I have had the privedge of using the McArdle papers and they are fascinating pieces of history in their own right not to mention the subject they cover. The Texas State Library and Archives should be commended for their work in making these papers available to the world. I encourage every serious student of Texas history to learn more about Henry McArdle and visit the McArdle Notebooks online by clicking on the links below.
Henry (sic) McArdle - The Handbook of Texas Online
The McArdle Notebooks at the Texas State Library and Archives



---
TLA Homepage
TLA Membership
General Rules and Reg.s
---